MIS(In-shop Monitor Version)
MIS―multi information system (In-shop Monitor Version)
 Cut House Hikari will not waste your precious time!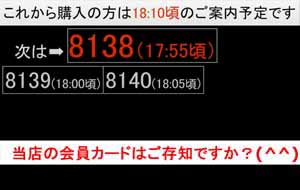 A monitor installed in the store will display the ticket receipt number and the scheduled time for cutting in order, so that customers can visually confirm the order in which they are waiting.

The screen also displays store information and messages.

※The scheduled time of the tour may vary depending on the cutting conditions.


Please feel free to spend your time in the waiting area or outside the store until it is your turn.

However, if you are not in the salon at the time of your scheduled cut, you may be the last one to arrive.